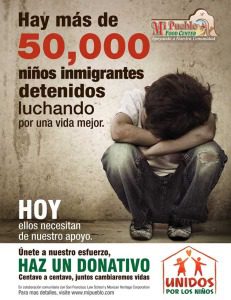 Pro Wrestling Revolution, LLC is very proud and honored to be taken part in this years telathon on Azteca America, "Unidos por los Niños", sponsored by Mi Pueblo Food Center tomorrow from 12-10pm at 3 different stores in the Bay Area.
Pittsburg (Railroad Ave)
Hayward (Hesperian Blvd)
San Jose (White Rd.)
We look for your support in helping this cause. You will be our wresters answering phones, speaking on Live TV, anything we can do to help. We encourage all our fans, friends and family and tune in to the station, donate what you can, whether you span Spanish or not, this is something that we can all get behind.
Gracias Karina Garcia for your support, we truly appreciate it!
Azteca 50 estará llevando a cabo un Teletón el domingo 28 de septiembre, entre 12-10 p.m. en 3 tiendas, promoviendo el último día del programa "Unidos por los Niños". Reporteros entrevistarán en vivo a ejecutivos de Mi Pueblo, clientes y miembros de la comunidad. Durante el evento, le pedimos que continúe a invitar a sus clientes a donar lo que puedan, ¡para recaudar la mayor cantidad de fondos posible!
DOMINGO 28 DE SEPTIEMBRE, 2014, DE 12 – 10 P.M.
EN LAS TIENDAS Pittsburg, Hayward (Hesperian Blvd) and San Jose (White Rd.)
¿Por qué hay cámaras afuera de la tienda?
· Hoy es el último día para contribuir a nuestra campaña Unidos por los Niños, así que nuestros amigos de Azteca America están haciendo un Teletón para ayudarnos a promoverlo con sus televidentes
· Van a estar aquí entre las 12 y 10 p.m., y cada hora estarán actualizando al público en vivo
· Están también entrevistando a algunos clientes que hagan una donación y quieran comentar en la tele porque consideran importante apoyar esta causa
¿Para qué están recaudando fondos?
· En los últimos 9 meses, más de 63,000 niños han cruzado la frontera sin sus padres, escapando de terribles condiciones en su país natal.
· Estos niños han sido detenidos en la frontera, y necesitan la representación legal adecuada para poder comprobar su necesidad de quedarse en este país. Estamos recaudando fondos para ayudar a proveerles esta representación legal gratuita.
¿Qué otras organizaciones están involucradas en esta campaña?
· Mexican Heritage Corporation – es una organización que aboga por la justicia social, el acceso a educación y tratamiento justo para Latinos y otras minorías en el Norte de California, y alrededor de la nación. También organizan eventos promoviendo la cultura Hispana, como los eventos de VivaFest!
o MHC recaudará todos los fondos y los distribuirá a organizaciones legales que ya están representando a niños en la frontera y necesitan el apoyo para continuar este esfuerzo.
· Escuelas de Leyes de San Francisco y San Diego – miembros de estas escuelas ya han estado aconsejando a niños sobre sus derechos en la frontera. Los fondos recaudados los ayudarán a continuar su misión.
¿Cuánto se requiere para hacer una donación?
· No hay un monto mínimo de dinero necesario para hacer una donación y cada centavo cuenta. Usted puede donar $1 o simplemente su cambio. ¡Entre más dinero recaudemos, a más niños podremos ayudar!
¿Y mi donación a dónde va? ¿Cómo se utilizará?
· Todas las donaciones van directamente a Mexican Heritage Corporation, quien repartirá los fondos a las organizaciones que representarán a los niños en la frontera. Mi Pueblo no se quedará ni con un centavo de lo que la comunidad done a esta causa.
¿Por qué es que Mi Pueblo está participando?
· Mi Pueblo cree y se compromete a apoyar a la comunidad, que está en el corazón de nuestra organización. Los niños son el futuro de este país y sabemos que se merecen una mejor calidad de vida.
· ¡Porque ningún niño debe sufrir, y estos niños ya han sufrido demasiado. Si trabajamos juntos podremos hacer una gran diferencia en sus vidas!